Karen Presley | Deliverance Ministries Speaker
Unlike Others: She Has No Claim To Fame
(1 Corinthians 1:26-31; Acts 4:13)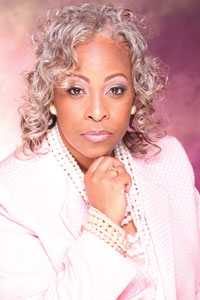 To understand who, what, when, how, where and why of this individual's positioning in this time and in this season, one must be challenged to understand her within the context of the above scriptures: No theological training or education. No PHD. No Masters Degree. No Bachelor Degree. No Associates Degree. No degrees of any sort. With no prestigious Bible College from which she came, and no Theological Seminary to which she went, man cannot boast it's because of him that she is. No religious doctrine. No certificate in sermon preparation. No certificate on Homiletics. No pulpit theatrics. No nothing of anything except the most important thing, she ministers the Word of God under the anointing of the Holy Spirit.
About the Prophet
Prophet Karen Presley, a native Washingtonian, was chosen from the midst of this generation, ordained by God, and was placed in a holding cell for ministry preparation in 1995. She's a "keeping it real, or down-to-earth" anointed teacher of God's Word. She is the founding pastor of Church of Zion Deliverance Ministries, Inc., as well as an entrepreneur and CEO of multiple businesses. She's also an inspirational speaker, certified life coach, mentor and accomplished author. However, in 1998, while in her holding cell pattern of ministry preparation, she became a partner within a non-denominational church; where she also spent most of her 12 years as a licensed minister.
During the silent years, that is, during the season of battling between choices of the flesh versus those of the Spirit, God saw fit to release Prophet Karen to coordinate a home-based Bible study for over 5 years. This mission represents the cornerstone of her ministry. She served as counselor, mentor and teacher to many individuals that she has embraced along her path. She is regarded by many as a caring and compassionate disciple and has effectively impacted the lives of people she served.
Her heart-centered love for God has inspired individuals to develop an intimate relationship with God throughout the Body of Christ. She focuses on exhorting members of the Body of Christ to live with spiritual integrity and fullness as they embrace their inheritance as Christian believers. Her ministry stands to light the way out of pain and sorrow for many people, especially women, encouraging them to know that God can heal even the broken-hearted.
Her prophetic messages inspire people to develop an intimate relationship with God, while transforming them from the inside out. God has put a "NOW" Word in her belly for this generation, as He releases her to empower and equip God's people to walk in purpose and pursue destiny.
About Her Past: A Biographical Sketch of Her History
She remembers through the keyhole mentality and eyes of a child, that she grew up in a very abusive household. More times than not, through the glimmers of what appeared to be love, a lot of fighting, arguing, and yelling caused her to sense impending fear all the time. Though she has memories of great joy with her father, those times became soured on the home front as another side of him manifested itself. He seemed to be a very angry man, and in fact did rule the house with fear.
Though cared for and nurtured by a loving mother, there came a time when that parental nurturing was eclipsed by the memories of school years devoid of touch and recognition. Her mother was very much involved in her school and activities; but she doesn't remember having heard the words "I love you", nor did either of them (as is the sad case in many mother-and-daughter relationships) show affection through "hugs of the heart or emotions." Even though her mother did the best she could, with what she had in her, for Karen it was a sense of lack in the area of truly bonding. Understandably, there was a sense of abandonment that only a child can experience, but never adequately convey that fear to an adult.
As most children do, she escaped into a world of fantasy. Her dog, Chastity, was invested with human attributes; Chastity became her very best friend. In her fantasy, Chastity provided her with the presence of that special girl friend to talk to. Between her bedroom and the basement, there was provided a refuge to which she and Chastity could escape. In those places of refuge, Chastity provided the friendship that almost every child feels she or he needs to escape what is perceived to be the ugliness of the real world. In the mind of Karen, Chastity really helped with medicating the discomfort from her then perceived reality. For the sake of living, she mastered the art of being disassociated and disconnected.
Even though Prophet Karen graduated from high school literally an empty shell, she did embrace a way of thinking, and pattern of behavior which set the stage for many episodes in her life, that is, which had her spiraling out of control. Never being encouraged or given direction in a wholesome way, she was void of vision, goals, hopes, aspiration and dreams. She went from job to job; always looking for something better, but never knowing what. Growing up, she identified love with sex; therefore, she went from man to man, always looking for someone to love her, but never finding it. For a period of time, indiscriminate promiscuity ran its course in her life.
To sum it up; Prophet Karen had been fired four (4) times, had a failed marriage after three (3) years; and moved back home with her mother for 10 years, because she never thought she could make it on her own.
The Testimony of Her Fork-In-The-Road Experience
Prophet Karen grew up in Roman Catholicism. In her early years, she was very active in church, but after experiencing her third time being fired, she felt led to go back and actively participate in her church. She joined the choir in 1992, led by the late Esther Bell-Watson; where unbeknown to her, she would hear the message of salvation preached for the first time. After accepting Jesus as her Lord and Savior, Esther hugged her and whispered the words, "The Lord is going to use you one day."
The New Birth: From Failure - To Success
(From Fired - To Entrepreneur)
In 2003, God changed her life. He birthed a graphic design printing business (Anointed Press Graphics, Inc.) He anointed her hands to do the business and her mind to run the business. Within two (2) years, God moved her out of her mother's house, off her job and into her own store front in the year 2005. By the next year 2006, God birthed her publishing company (Anointed Press Publishers), she wrote her first book (Living Holy in an Unholy World), and then her 501 (c)(3) outreach ministry was birthed (Daughters of Zion Empowerment Center). In 2007 Karen Presley Ministries was birthed and in 2008 Church of Zion Deliverance Ministries, Inc., was born. However, as God was positioning, launching, and transitioning Prophet Karen into new levels of her destiny, that which she suppressed, buried, covered up and masked for YEARS... started coming to the forefront.
Being a Failure Was Not An Option
Thoughts of being a failure, a disappointment to her parents and herself, never amounting to anything or succeeding at anything started coming to the surface. Her self-worth, self-esteem and confidence level was below zero. Outwardly she had escaped so far from her past that she didn't even know who she was. Her outer countenance was cheerful, upbeat, joyful, happy-go-lucky, fun, and sometimes even silly. But no one, not even Karen, knew the degree or the magnitude of hurt that she had carried and buried. But one by one, God started peeling back the layers of her past, the hurts, and fears.
She is a living testimony of the power of God's Will to transform a life through His grace, and with the endurance of His patience. From the ashes of her past life, He internally re-cycled her with His sense of beauty, and as a trophy of His workmanship. (Ephesians 2:10) She is a product of the Potter seeing His clay marred, remaking her and remolding her into the vessel that He originally intended her to be. Today, Prophet Karen is one of the most refreshing prophet-teachers of God's matchless Word in the Body of Christ today.
Prophet Karen is the epitome of someone who continues her vision to inspire and empower others to trust and lean on God for direction, guidance and counsel. She's a living example of how He can take you from nothing to being a living testimony of His marvelous works.